Welcome to Playharmonica
Whether you're a beginner starting out on the journey, an improver or someone looking to expand on their repertoire, Playharmonica has something for you.
Register free

Each course is steered towards a specific level of player.
What level are you? Always tricky to answer. I don't like to put people in boxes so this is just a rough guide and will steer you towards the right courses. Having said that, each course starts out nice and easy and gradually introduces you to progressive challenges as you increase your capacity to learn.
I have been teaching live groups of harmonica students for over 20 years and try to make the video courses feel as 'live' as possible - they feel live to me when I'm teaching to the camera! I am expecting you to progress as we go along.
You will see them in the cover pictures and can search by going to: VIEW-ALL-COURSES>CATEGORY - SELECT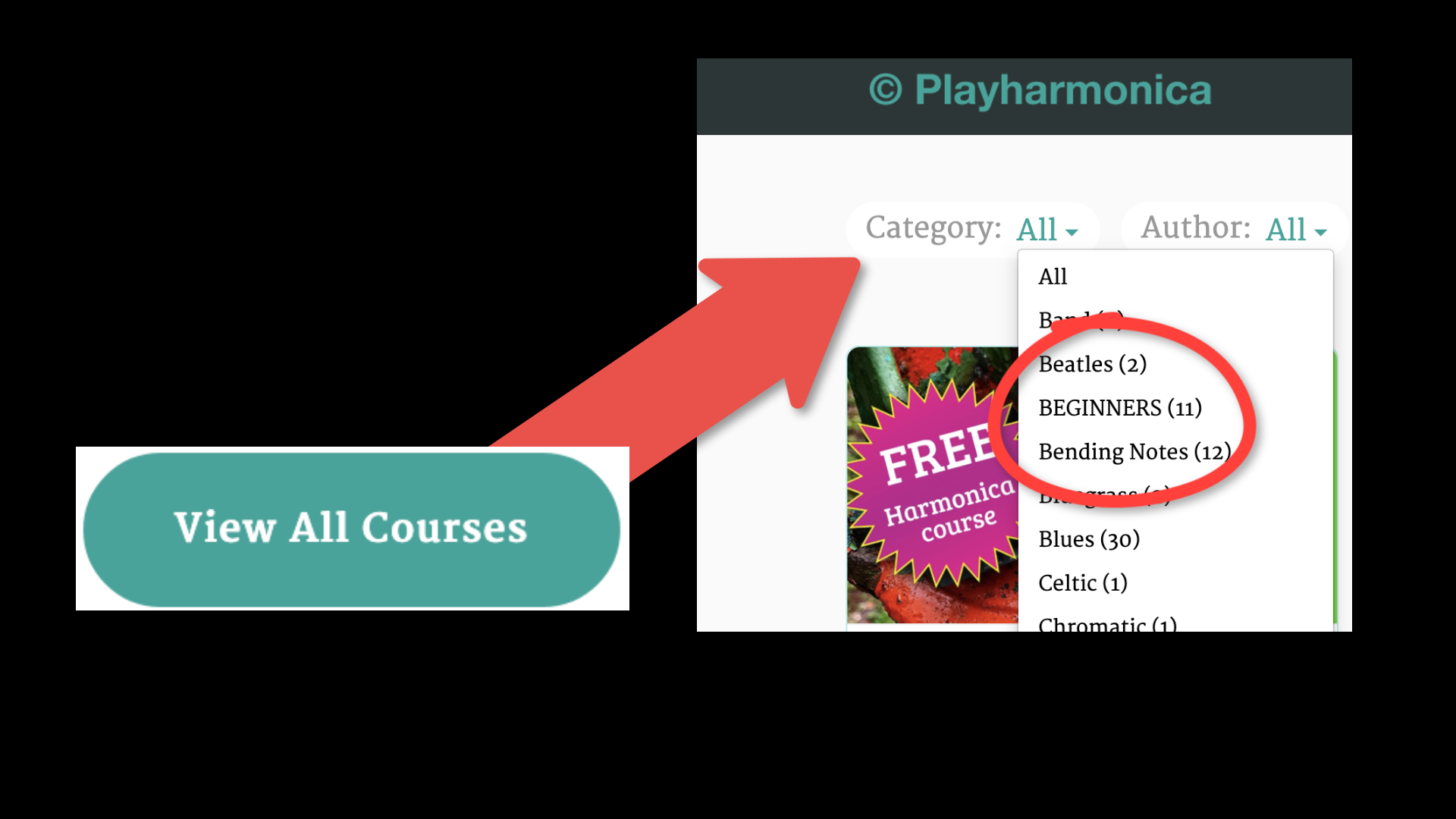 Beginners are deemed to be people who have ever played before or not played much. You will be expected to 'have a go' at playing single notes and chords but you don't need to perfect it - just try. You will get some challenges but you will overcome them!

Intermediates are deemed to be people who have been playing a while.
People who:
Can play single notes most of the time
Have started bending some notes
Know something about the chords
Have some musical knowledge
May know about tongue blocking
Hiding in the corners at jam sessions not joining in much

Intermediates Plus is everything written above plus...
You are:
Pretty good on single notes and most bending
Can pucker, tongue-block and U-block
Knowledgeable about 12 bar blues structure
Independent rhythm makers
Independent tune players
Knowledgeable about and can play in different styles
Knowledgeable about and can play in the styles of different harmonica players
Maybe starting to teach harmonica
Good at improvising in many styles of music
Knowledgeable in the workings and engineering of the instrument
Often attending harmonica events and jams
Comfortable performing in public