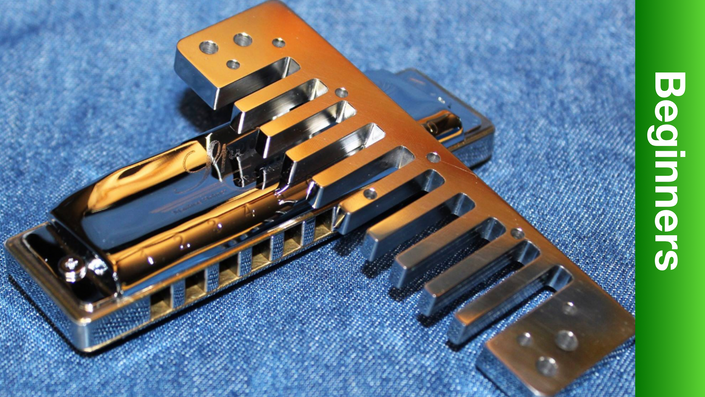 Single notes - how to get and practice single notes with grace and ease on your harmonica
Five ways to get single notes and 20 progressive exercises/tunes to practice with - blues, rock, country, reggae + more
Watch Promo to get a sneaky peek!
INTRODUCTION
Hello and a warm welcome to 'The search for the single note'.
GET CHUGGING was all about playing chords and rhythms. But now what we are going to do on this course is learn how to get single notes every time. Here you will find a series of simple but progressive exercises - or tunelets - which will help you glide from being a chord player to being a single note player as well.
They will prepare you for playing proper tunes, and yes we do have a book of tunes for you to get hold of! Let's get straight down to business.
Maybe you have some questions at this point...
1st question:
What sort of harmonica(s) do I need for this course? A ten hole diatonic in 'C'
2nd question:
What do the arrows in the music mean? up arrow=BLOW, (exhale) down=DRAW, (inhale)
INFORMATION
How do you get a single note on the Harmonica?
I can think of several different ways so Iím going to show you five now...
Number 1: The masking tape method. This is not as silly as it sounds and we use this when we are learning to bend notes. You simply cover the holes that you don't want to play with masking tape and then you blow or draw.
Number 2: The index finger method. Here you put the pads of your index fingers into the holes on each side of the one that you want to play, press hard, open your mouth wide, and put the whole lot in your mouth, breathing normally. So, for example, if you cover holes 3 and 5 with your index fingers hole 4 would sound.
Number 3: The pucker method. I recommend starting with this method.
With this one, you pucker your lips like a kiss or the shape you get when you whistle. Push them out in a relaxed way; imagine if you had a drinking straw in your mouth and if you took the straw OUT, the hole that would be left is the hole you need.
Itís going to have a radius of about 3 millimeters. You have to learn to control the lip muscles very accurately; you could try it in front of a mirror to see and develop the aperture. Now put the harmonica into your mouth and breathe. If you find you are playing more than one note, try and focus your mouth down so that the hole becomes smaller. With practice, you'll find you're able to get single notes nearly every time.
Number 4 and number 5: Come under the title of 'tongue blocking'.
We are not actually going to use these on this course but just for the record, I'll explain briefly what they are. With tongue blocking you get a single note by excluding the notes to the right of the one you want to play using the lips and the ones to the left by using the tongue, or the other way round. This is quite difficult to do but it's a nice effect because you can lift up the tongue and briefly expose the other notes. The other thing you can do is to play many intervals such as octaves, which is by using the tongue even more accurately. I could play holes 2 and 5 by blocking out holes 1,3,4 and 6. You figure it out!
And the final method is 'U - blocking', this is nothing to do with plumbing, you put your tongue into a 'U' shape and the note in the center can then be played without sounding the notes on either side of it.
Subjects and tracks in order:
Welcome back
Preparation for Easy Blues
Easy Blues
Preparation for Whistlin' Boogie
Whistlin' Boogie
Preparation for Things Look Great
Things Look Great
Preparation for Western Theme
Western Theme
Preparation for Open Highway
Open Highway
Preparation for Rough 'n' Reggae
Rough 'n' Reggae
Preparation for Classique Times
Classique Times
Preparation for Waltz de Lite
Waltz de Lite
Preparation for From the Heart
From the Heart
Preparation for Baroque Rondo
Baroque Rondo
Preparation for A Quiet evening in Cyber City A Quiet evening in Cyber City
Preparation for A Drive in the Sierras
A Drive in the Sierras
Preparation for Sweetness and Light Sweetness and Light
Preparation for Whatever Lies Ahead Whatever Lies Ahead
Preparation for In More Peaceful Times
In More Peaceful Times
Preparation for What You Doin'
What You Doin'
Preparation for Warm and Fuzzy Reggae Warm and Fuzzy Reggae
Preparation for Forging Ahead
Forging Ahead
Preparation for Clarinet Chorale
Clarinet Chorale
Preparation for Across The Icefields
Across The Icefields
Single Note Conclusion
Your Instructor
Course Curriculum
Introduction and overview
Available in days
days after you enroll
Simple patterns
Available in days
days after you enroll
Progressive patterns and tunes
Available in days
days after you enroll
Frequently Asked Questions
When does the course start and finish?
The course starts now and never ends! It is a completely self-paced online course - you decide when you start and when you finish.
How long do I have access to the course?
How does lifetime access sound? After enrolling, you have unlimited access to this course for as long as you like - across any and all devices you own.
What if I am unhappy with the course?
We would never want you to be unhappy! If you are unsatisfied with your purchase, contact us in the first 30 days and we will give you a full refund.